Clear Lift (Pixel Q-switch) Laser – The latest innovation in the Aesthetic World
Aura Skin Institute recently launched the latest fractional skin resurfacing innovation Clear LiftTM – High powered Pixel Q-Switch Laser, the first in the country! This technology is US FDA approved and has been imported from Israel. What gives Clear LiftTM edge over the other lasers is its amazing safety and efficacy. It is more advanced in comparison to other available lasers in the market, as it delivers ultra-short, high powered pixilated laser beams facilitating very precise and better skin penetration yielding exemplary results.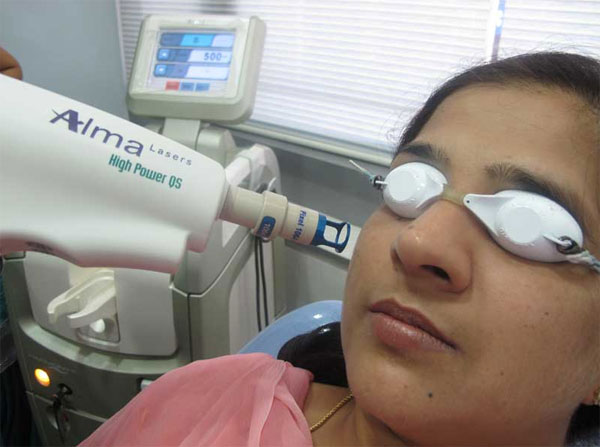 WHERE THIS LASER CAN HELP YOU?
FACIAL REJUVENATION: The discomfort and recovery time associated with previous skin resurfacing lasers was a big disadvantage which has been overcome with this laser. The high point and salient feature of this unique, breakthrough technology is that it is virtually painless with zero recovery time. The entire procedure takes only 15-20 minutes. And in no time, it gives you smooth, youthful and glowing skin free of pigmentation, open pores and fine lines. And you can enter straight into a party and flaunt your vibrant skin, without letting anyone notice the procedure you have undergone minutes before! Thus this laser is a blessing for those who want instant brightening results and have no time to go for other time consuming aesthetic procedures. 
The technique is different from laser peel in the sense that it does not damage the outer skin, yet the photo-acoustic laser rays can penetrate deep into the dermis, target the desired cells and give unbelievable results in form of soft and supple rejuvenated and tightened skin. 
FRECKLES: are cleared in just 1-2 treatment sessions with pixel Q-switch laser. This laser safely and effectively target individual brown marks on the face, trunk and limbs.
MELASMA: is a challenging condition to manage as recurrence is common and it responds variably to various treatments like bleaching, chemical peels, IPL and other lasers.  But pixel Q-switch shows never-before results in tackling even stubborn, end-of-the-line melasma. It usually requires 4-6 treatment sessions spaced 2-4 weeks apart for satisfactory results. 
DARK UNDER EYE CIRCLES AND PIGMENTATION: This laser can also tackle dark under eye circles and pigmentation over face/other body parts with impressive results; also the ones which are not being cured by other conventional procedures or lasers. It gives you fairly satisfactory and long lasting results. Ideally 3-5 sittings are required for desired results placed 4 weeks apart. 
ANY PRECAUTIONS REQUIRED WITH THIS LASER?
No other specific precautions are there except for effective and frequent Sunscreen use; which is a must like for any other laser procedure. One needs to use the sunscreen with good SPF for prevention of post-inflammatory pigmentation. 
To know more about this laser, click here