Aura introduces breakthrough Hair Removal Laser
A unique combination of Diode and Alexandrite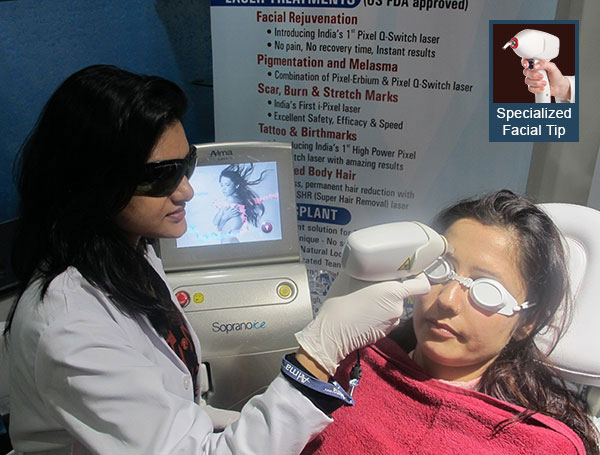 Dr. Suruchi Garg demonstrating Laser hair removal (Eyebrow shaping) treatment on Soprano ICE
On world health day, Aura Skin Institute, Sec 9D, Chandigarh dedicated to its citizens a breakthrough hair removal laser – Soprano ICE. It is an award winning, US FDA approved latest innovation in Laser hair removal. Always at the forefront, Aura Skin Institute yet again remains the pioneer in bringing this latest technology at Chandigarh as it introduced Soprano ICE to its Indian clients for the first time in the country.
It offers a unique combination of 810 Diode and 755 Alexandrite laser and incorporates multiple laser wavelengths and technologies to deliver never-before results. Its key advantage is that it uses a solid-state laser based on an Alexandrite wavelength, allowing for even better energy absorption by the melanin chromophore. Additional cooling in this technology (from where it derives its name ICE) makes treatment virtually painless even for delicate areas like face, arm-pits and bikini; and there is no need to use anesthesia or numbing gels. 
It is suited for all skin types (specifically Indian skin) and is effective for both coarse and fine (thin) hair. Another unique advantage with this laser is that it also reduces the pigmentation in the treated area.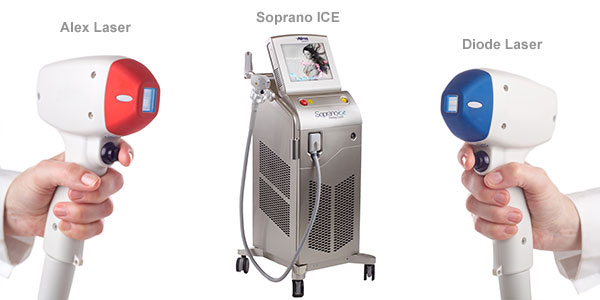 Key Advantages with Soprano ICE:
Faster treatment times: The Soprano ICE can operate at 10 hertz per second, creating one of the fastest treatment times in the world. It is continuous and can cover large body areas in very short span of time.
Additional cooling to minimize patient discomfort: Its advanced cooling technology cools the skin during treatment for longer periods of time, thus there is no risk of burns on the skin. Contact Cooling increases patient comfort, making treatments more enjoyable than ever before.
Virtually painless treatment without the use of anesthesia or numbing gels: No pre-treatment times required to apply numbing agents or local anesthetic agents. So no jeopardizing with your comfort when you come for hair removal laser.
Specially designed Facial tip: For removal of unwanted hair from hard to reach areas like ear lobes, nostrils and glabella. It is also extremely useful in areas where you need more precision like eyebrow and beard shaping.
SHR and In-Motion™ technology produces extremely effective results: Its 4th generation Super Hair Removal (SHR) laser which uses Advanced Fluorescent Technology (AFT) incorporates all the wavelengths which are effectively absorbed by melanin (780nm – 900nm); while other lasers use only single wavelength. It is very safe to be used on delicate areas like face, under-arms and bikini area. Also its latest in-Motion™ technology has completely revolutionized the process of hair removal as it ensures that it works continuously and there are no skipped areas.