10 things you wanted to know about PRP Therapy
You keep reading the posts at Aura Skin Institute's social media about how effective PRP Therapy is for hair re-growth and skin rejuvenation; let us enlighten you a little more about some significant aspects of PRP Therapy.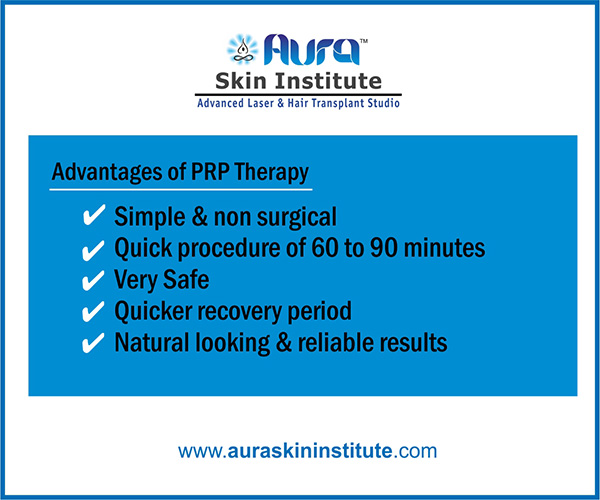 PRP or Platelet Rich Plasma is very effective as this plasma contains many growth factors essential for hair growth and skin rejuvenation such as Platelet-Derived Growth Factor (PDGF), Fibroblast Growth Factor (FGF), Vascular Endothelial Growth Factor (VEGF) and various others.


PRP therapy is a non-surgical method. Unlike Hair transplant, PRP therapy does not involve any surgery and is based on the concept of regenerative medicine to stimulate natural hair growth and improve collagen production and vascularity in deeper layers of skin. 


No side effects – Whether you take RPP therapy for face or for hair, it is fully safe and natural because the procedure concentrates the platelets from your own blood directly back into the area where it is needed. However, a little redness, bruising or headache can follow the session, which again is short-lived.


In PRP Therapy, blood is taken from patient's own body, processed and then re-injected directly back into patient's scalp or face. That's the reason it is called Vampire or Dracula therapy.


When injected in scalp, PRP stimulates inactive or newly implanted hair follicles into an active growth phase besides improving the diameter of fragile hair. That means the patients gets to experience 'Better and Faster' growth rate of hair within 4 to 6 weeks of first therapy.


PRP therapy suits the busy lifestyle as the person needs to take out just an hour for the treatment. PRP therapy can be repeated every 1-2 months depending upon your body's need and upon the severity of hair loss.


When taken on the face, PRP improves the skin texture and vitality by reducing the wrinkles and fine lines from the face and neck. The overall effect is youthful, glowing and tightened skin. It won't give you a frozen look as in with 'Botox or Filler' but a very natural facelift and age reversal which truly belongs to you.


PRP Therapy is quite effective as an anti-aging treatment. More and more researches reckon it to be effective in hair regrowth and as an anti-aging tool (References mentioned below).


At Aura Skin Institute, PRP Therapy is performed under the guidance of expert doctors and the most stringent and safest measures are ensured while treating your skin/hair. Never forget to enquire from the doctor which specialized kits he/she is using for preparation of PRP as this is one of the most pertinent question to ascertain the concentration of platelets and effective outcome of therapy.


PRP Therapy is not as costly as you imagine! Considering its benefits and no-side-effect approach, it is viewed as the preferred skin/hair care treatment in most advanced institutes all over the world. 


1 .Li ZJ, Choi HM, Choi DK, Sohn KC, Im M, Seo YJ, et al. Autologous platelet rich plasma: A potential therapeutic tool for promoting hair growth. Dermatol Surg. 2012;38:1040–6.
2. Eppley BL, Pietzak WS, Blanton M. Platelet-rich plasma: A review of biology and applications in plastic surgery. Plast Reconstr Surg. 2006;118:147–59e. 

3. Marx RE. Platelet-rich plasma: Evidence to support its use. J Oral Maxillofac Surg. 2004;62:489–96.

4. Uebel CO, da Silva JB, Cantarelli D, Martins P. The role of platelet plasma growth factors in male pattern baldness surgery. Plast Reconstr Surg. 2006;118:1458–66.

5.Besti EE, Germain E, Kalbermatten DF, Tremp M, Emmenegger V. Platelet-rich plasma injection is effective and safe for the treatment of alopecia. Eur J Plast Surg. 2013;36:407–12.

6. Sclafani AP (February 2011). "Safety, Efficacy, and Utility of Platelet-Rich Fibrin Matrix in Facial Plastic Surgery". Arch Facial Plast Surg 13 (4): 247–51