A day at Hair Science Centre, Denver, Colorado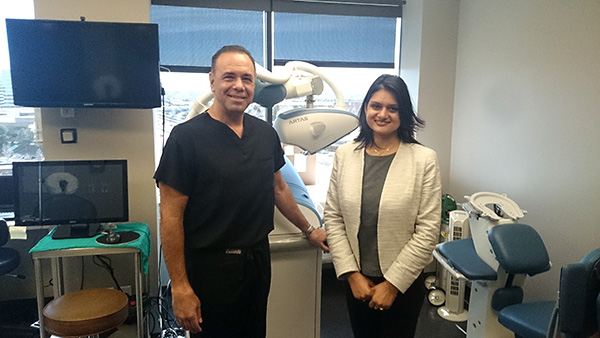 I could not believe my luck when I got a chance to attend FUE and robotic hair transplant session at Hair Sciences Centre (HSC), Denver, Colorado with Dr James  A. Harris. He is the pioneer and innovator in the field of FUE Hair Transplant working diligently in this area for the past 18 years. He is surely one person who has seen the science of hair evolve from punch grafting to FUT to FUE and presently to ARTAS the robotic system. I took a flight from Dallas to Denver in the morning and reported at his clinic at 9:15 am. Dr Harris was already in the surgery when he was informed about my arrival and I was made to sit in his office area. This workplace was surely one of the finest and most picturesque, I had ever seen.  Beautiful snow covered, sun- kissed mountains gazed at you right in the morning. In between, I could see the intertwining network of clean roads and bridges that intersected the city with aesthetically raised buildings.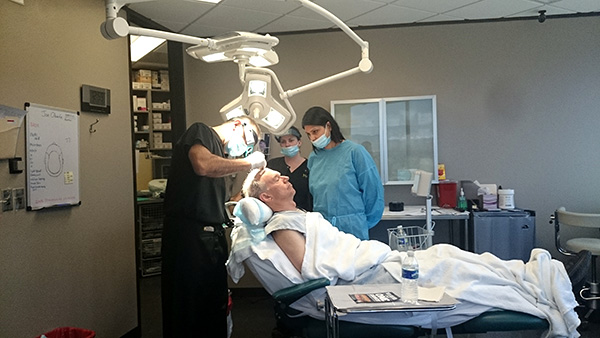 I was still appreciating the souvenirs and certificates of Dr Harris when he came out of surgery, greeted me and took me along in the operation theatre. I was informed that Hair Transplant is considered a clean surgery in States, so one doesn't need to undergo extensive scrubbing and aseptic precautions as needed in other surgeries. Soon Dr. Harris was engrossed in harvesting the grafts with his self-innovated Safe Scribe System. He also explained the ARTAS robotic system to me and demonstrated how it works. I was impressed by the accuracy of the robot but pleased to discover it still worked slower than the established hair transplant surgeons!  
I started with all my queries one by one and he gave his valuable suggestions besides explaining his recent work on Safe system. We also discussed the role of PRP therapy (a controversial topic in the hair transplant) and agreed that both of us were genuine believers in its efficacy. I was glad to discuss my comparative study in this field for which I got appreciation from him. Once harvesting was over, he took me for a delicious lunch and showed me around his clinic. I was also showed the Colorado Springs, Mount Kelvin and other famous peaks from his office window and Dr Harris told me that every winter he goes for skiing to these peaks. After lunch I was shown the slitting and implantation part of the remaining procedure. Now next part in waiting was Dr Harris' consultation with his high profile clients. Dr Harris was kind enough to allow me to sit with him during his consultations which were again a great learning canvas. He was honest and methodical in his approach and quite open in taking my suggestions in different cases. He was done with his day by 4:00 pm and now was the time to say goodbye. I and my husband thanked him for the wonderful teaching and hospitality. We were overwhelmed by his humility, sincerity towards work and willingness to teach and share knowledge. He arranged a chauffeur driven car to show us around Denver which was an experience in itself. I will always cherish this day in my memories.